The city of Cancun is one of the most privileged destinations in Mexico and thanks to its beaches, its coasts, the proximity to the Riviera Maya and being part of the Yucatan Peninsula, it has become worthy of being one of the best tourist regions of Mexico and if you want to visit this destination very soon, but do not know where to stay, keep reading because now we will tell you which are the Best Hotels in Cancun.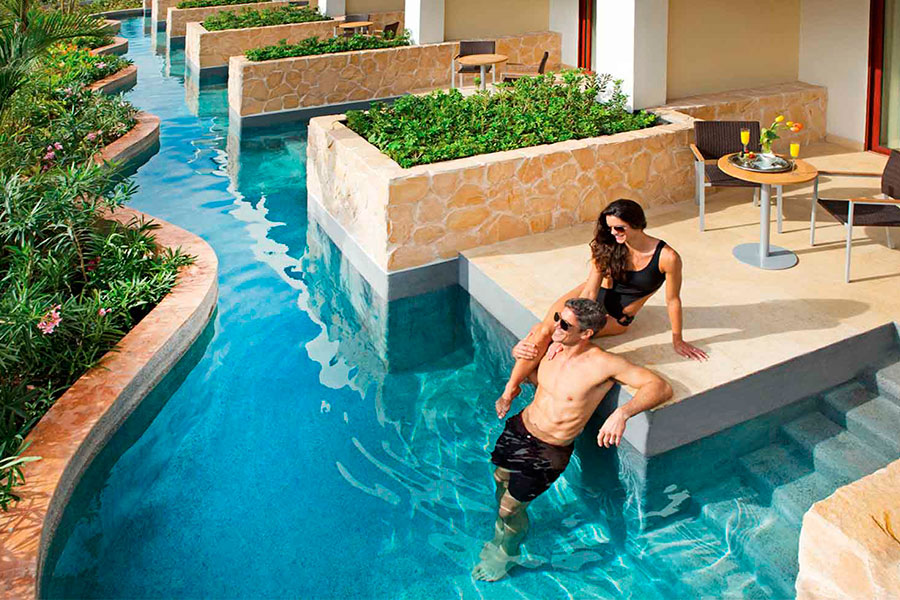 Best Hotels in Cancun
If you still don't know where to stay in Cancun, but you are a lover of the best attention, comfort and luxury. Then, this list of 5 resorts in the Hotel Zone might interest you. So let's get to know them.
The Grand At Moon Palace
This all-inclusive luxury resort located on the south coast of Cancun, offers a variety of rooms that stand out for their incredible ocean view. It has several activities within its facilities, such as daycare, wave simulator, a water park, a varied menu, spa and even a golf course.
They also include a refrigerator to store food or beverages and have them within quick reach; they also have air conditioning, private balcony, television with a variety of channels and cleaning service.
Hyatt Ziva Cancun
This hotel is considered one of the best in Cancun, with a variety of activities and unique facilities, the Hyatt Ziva Cancun is one of the most outstanding in the region.
Here you will find comfortable facilities; its rooms offer free WiFi for guests to stay connected, flat screen TV, a minibar, air conditioning to counteract the high temperatures of this beach area and maintenance service.
Nearby, there are famous restaurants in the region where you can try a variety of dishes; likewise, it has a restaurant within its facilities. With access to a private beach and childcare service, both adults and children can enjoy a magical vacation in this complex.
If you also want to know the surroundings of the complex and do a different activity, the Museum of Mexican Popular Art, is located a few kilometers from the place, so going to it does not represent any complication.
From incredible facilities to first class service, the Hyatt Ziva Cancun should be one of the first lodging options if you plan to vacation in this beach paradise.
Grand Park Royal Cancun
Standing out for its exclusive specialized service, guests and visitors of this Cancun hotel consider Grand Park Royal Cancun one of the most ideal options to stay during their vacations.
It has incredible facilities, where you can enjoy unique swimming pools. Among the gastronomy offered at the hotel are Italian, Oriental and traditional Mexican specialties.
Likewise, if you wish to leave the complex for a while and get to know its surroundings, its location allows visitors to enjoy tourist attractions such as the Alacrán Temple and the El Rey Archaeological Zone. In addition to this, there are some famous beaches nearby, such as Chac Mool Beach, among others. There are also restaurants such as Umami Restaurant and Bubba Gump Shrimp Co.
This resort is one of the best hotels in Cancun, thanks to its all-inclusive service, all members of a family can feel comfortable, since the activities offered vary for all tastes and ages.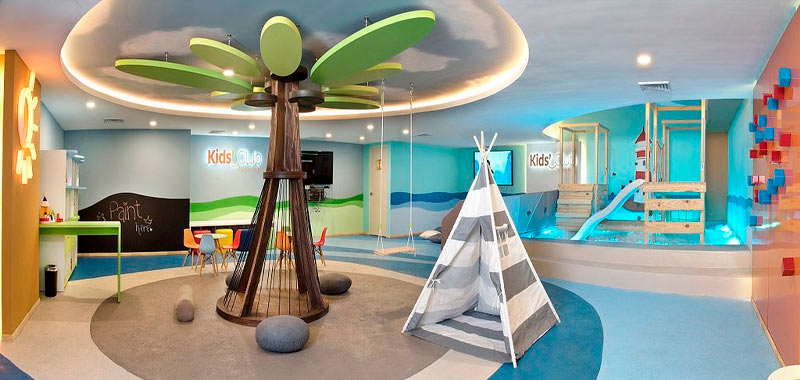 Real Inn Cancun
Located in a central area in Cancun, the Real Inn offers not only a pleasant experience within its facilities, but also thanks to its location you can visit different places located in the area.  Famous Cancun restaurants such as The Surfin Burrito and Dag Dag are located nearby. The resort also offers a varied menu in its restaurant.
Its facilities have a relaxing beach feel, perfect to experience an unparalleled vacation. They have a magnificent swimming pool, close to a bar where you can enjoy a refreshing drink for the beach weather.
Another of its features is the room service. This includes cleaning and maintenance, as well as air conditioning and a television to rest a little from the activities of the day to day.
The Real Inn, ensures that its guests can always be connected; so in addition, within its services there is free WiFi to keep up to date. It also has outstanding attractions in the region.
Le Blanc Spa Resort
With first class facilities, this is considered one of the best all-inclusive resorts in Cancun. Designed essentially to guarantee a pleasant experience, this resort offers a variety of activities for the enjoyment of all its guests.
When staying at this incredible complex, you can enjoy a swimming pool with a bar nearby, and the room service is of outstanding quality. It has a sauna and thanks to its location, it is possible to visit other tourist attractions in Mexico.
The staff is highly qualified, so they handle a variety of languages, mainly English and Spanish, so that the attention to any of the guests is efficient.
You can enjoy a complete experience within the complex. This hotel offers all its visitors opportunities for recreation and fun. It is ideal for a wonderful family vacation.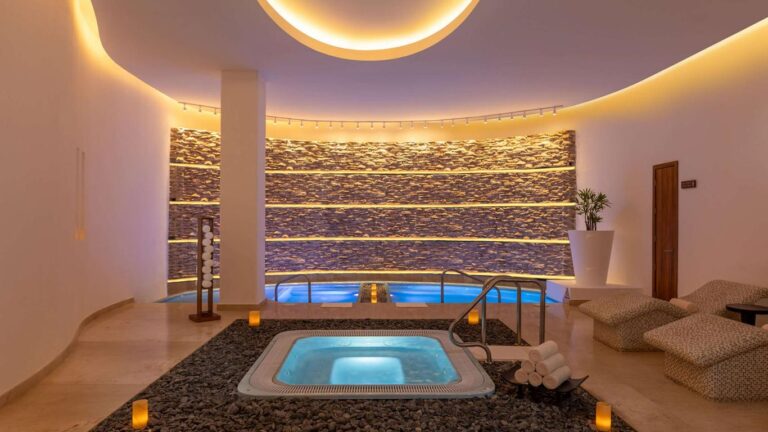 Villa del Palmar Cancun All Inclusive Beach Resort and Spa
A family hotel that will simply dazzle is how we can describe the 5-star, luxury, all-inclusive Villa del Palmar.
The architecture of this resort located on Punta Sam road, resembles a luxury residential, full of tropical gardens, with a panoramic view of the sea, Isla Mujeres and more: Fully equipped with everything you need to forget to leave it,
Let yourself be pampered with the taste of the gastronomy of its 6 restaurants and where you will find the typical representative food of Mexico, Japanese, Mediterranean, American, roast and all this duly accompanied with bars and pools for you and your family. bars and pools for you and for the little ones at home.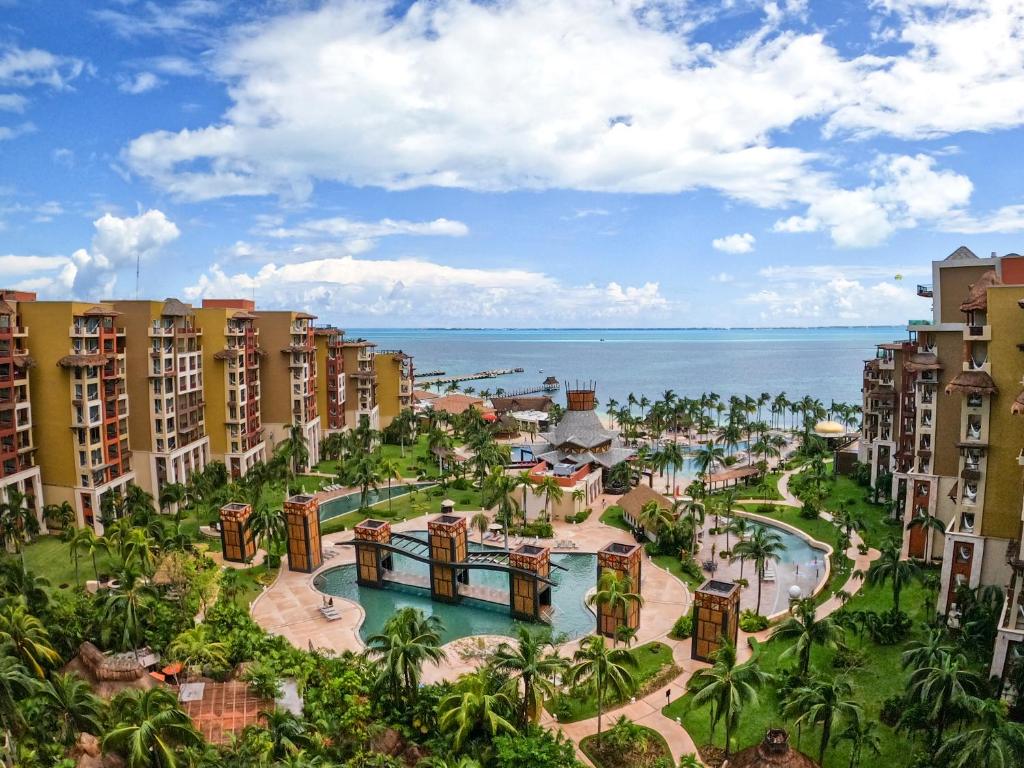 Garza Blanca Resort & Spa Cancun
At km 5.5 of the Punta Sam highway we can find another exclusive luxury resort equipped with one of the most complete spa's in the Mexican Caribbean: The hotel Garza Blanca Resort & Spa Cancun.
The resort is located less than 200 meters from Playa Mujeres, has a panoramic view of the sea, Isla Mujeres and also very close to the overseas ferry.
For your enjoyment at all times, the resort has 4 swimming pools, and restaurants offering Mexican, American and seafood cuisine.
The hotel is family friendly and at night has a small disco where you can enjoy flirty drinks, DJ's and a pleasant atmosphere to forget your sorrows.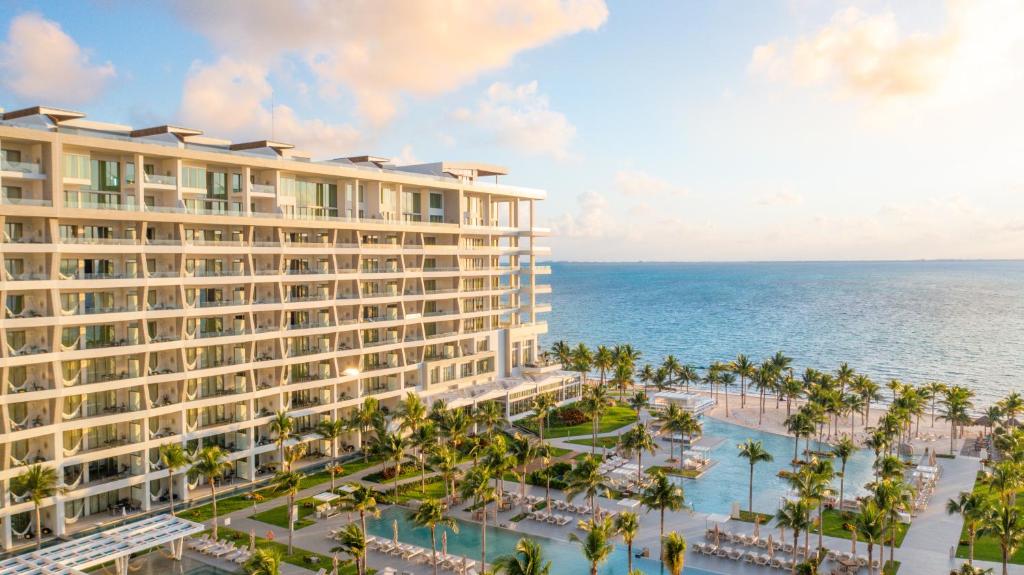 Majestic Elegance Costa Mujeres
With 4 swimming pools, suite-style rooms, 9 restaurants and an excellent quality in all its services and facilities, the Majestic Elegance Costa Mujeres is another of the great hotels where you can stay in Cancun.
The hotel is located in the mainland area of Costa Mujeres, which you can reach by private transportation, cab or public transportation. But this area is a bit «private» and we refer to it because it is not surrounded by hotels like the hotel zone of Cancun.
So privacy, tranquility and calm will be waiting for you here.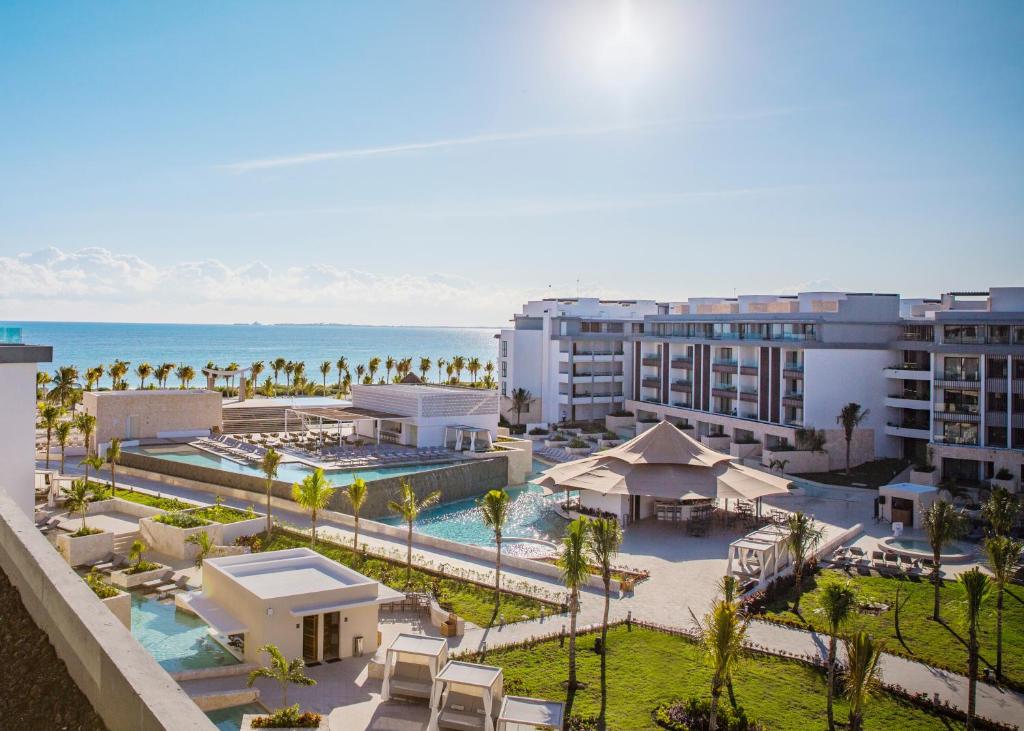 Temptation Cancun Resort
The city of Cancun has several hotels for adults and each of them has its advantages, its way of creating experiences for guests and of course, its set of activities for couples and more.
So, what's different about the Temptation Cancun Resort? This adults-only hotel has been known to be a favorite of young adults and in fact, the type of people who stay here tend to be between the ages of 18 and 30.
Therefore, if you are looking for a resort with a very jovial atmosphere and of course with hot, partying and daring attractions, shows and activities, then this is the best resort to stay at.
Royal Solaris Cancun
Royal Solaris is located at km 20.5 of the hotel zone and this is a bit far from the main attractions of Cancun and downtown Cancun. But then, why should I stay here?
Well, first of all its beaches are totally private. Why? Because there are no more attractions around these places, tourists and locals don't come here anymore. So it is perfect for privacy.
Besides, it has an all-inclusive concept and you can enjoy the gastronomy of its 3 restaurants. And although it is located in a «far» point from the main entertainment area of Cancun, it is really very easy to get to it. So this resort should definitely be on your list of lodging options in Cancun.
Nizuc Resort & Spa
Cancun's 5-star Nizuc Resort & Spa is a resort that offers an idyllic getaway. One of the best places to stay in the city and located on the edge of an island, the resort offers spectacular views of the Caribbean Sea from its luxurious suites and villas.
At this resort you can enjoy a variety of activities, such as golf, tennis, scuba diving and paddleboarding. There are two swimming pools and three restaurants to choose from, as well as a spa offering a range of treatments. The resort is also home to a private beach and several bars and lounges.
This resort is the perfect destination for travelers seeking a relaxing yet luxurious experience. With its modern amenities and exquisite views, this resort is sure to exceed all expectations.
Atelier Playa Mujeres All Inclusive
The Atelier Playa Mujeres is an all-inclusive resort that offers guests a luxurious and unforgettable vacation experience.
The hotel is located in the Riviera Maya and is a resort nestled between the Caribbean Sea and a stunning lagoon, providing guests with a breathtaking view of the ocean from every angle.
Everyone who chooses to stay here has access to the highest quality amenities, including seven gourmet restaurants, four bars, a spa and fitness center, a children's club and a state-of-the-art convention center.
The resort offers a wide variety of activities for all ages, from kayaking, paddle boarding and snorkeling in the crystal-clear waters of the Caribbean Sea, to tennis, beach volleyball and yoga classes on the beach.
With its luxurious accommodations, breathtaking views and wide range of activities, the Atelier Playa Mujeres All Inclusive is the perfect destination for all ages.
Haven Riviera Cancun
The 5-star Haven Riviera Cancun is an adults-only, all-inclusive resort offering guests a variety of luxurious amenities and personalized services.
From the breathtaking oceanfront views to the wide selection of dining options, Haven Riviera Cancun provides a truly unique adults-only experience.
The resort also features a full-service spa and wellness center, outdoor pool and Jacuzzi, and a selection of stunning beach and pool cabanas.
Grand Fiesta Americana Coral Beach Cancun
The Grand Fiesta Americana Coral Beach Cancun is an award-winning hotel located in the heart of Cancun. A hotel equipped with a wide range of luxury amenities, this five-star resort offers a truly memorable stay to its guests.
From its breathtaking oceanfront views to its spacious and elegantly appointed suites, guests will enjoy a truly luxurious experience. With a state-of-the-art spa, multiple restaurants and a variety of activities, this hotel is a perfect getaway for couples, families and business travelers alike.
The Grand Fiesta Americana Coral Beach Cancun provides an unparalleled level of service and amenities, guaranteeing an unforgettable stay in the beautiful Riviera Maya.
Dreams Vista Cancun Golf & Spa Resort
The Dreams Vista Cancun Golf & Spa Resort is a luxurious 5-star property located on the beachfront in Cancun.
Located just minutes from downtown Cancun, the hotel features breathtaking views of the Caribbean Sea, a variety of luxurious amenities and all the comforts of home.
Guests can enjoy a wide range of on-site activities and amenities, including a private golf course, a full-service spa, a fitness center and three outdoor pools.
But that's not all, they can also enjoy its nine restaurants, bars and participate in organized activities, such as snorkeling, kayaking, or just relaxing on the beach.
Conclusion
This is our short list of the top 5 best hotels in Cancun and remember: Be part of an exclusive list of the best hotels in Mexico and very soon you can find more recommendations and list of services such as transfers in Cancun, nightclubs in Cancun and more our Best Hotels portal.
Tags: best hotels in cancun,best hotels in cancun all inclusive,best hotels in cancun for kids,best hotels in cancun for adults,best hotels in cancun hotel zone,best hotels in cancun for honeymoon,best hotels in cancun all inclusive,best hotels in cancun tripadvisor,best hotels in cancun for teens, best hotels in cancun for adults only,best hotels in cancun for adults all inclusive,best hotels in cancun for teens,best hotels for new year's eve in cancun,best hotels in cancun cheap,best boutique hotel cancun,best hotels for wedding in cancun,best hotels in cancun and riviera maya.