Xcaret is one of the most famous and well known parks in Mexico, it is part of the tourist attractions of the republic and it is normal that almost every traveler who comes to the Riviera Maya no matter if it is the first, second or third time, have added in their itinerary: Spend a day in Xcaret.
A park that has it all: waterfalls, rivers, cenotes and that puts the culture and history of Mexico's traditions on a high note. So if you are thinking about visiting Xcaret, keep reading this article because we will tell you how to get there and everything you need to know.
Is Xcaret part of Cancun?
No, not really. Although it is sold as a «Cancun tour» and many influencers and travelers who have a blog, talk about Xcaret as if it were part of Cancun, the reality is that it is not and not by far.
Xcaret is located in the heart of the Riviera Maya, just outside of Playa del Carmen and is part of the municipality of Solidarity.
In fact, if you are in Playa del Carmen, getting to Xcaret will be very easy and inexpensive. Of course, if you are in Cancun or Tulum, getting to Xcaret is a bit more complicated, but only a little bit and we will tell you more about that below.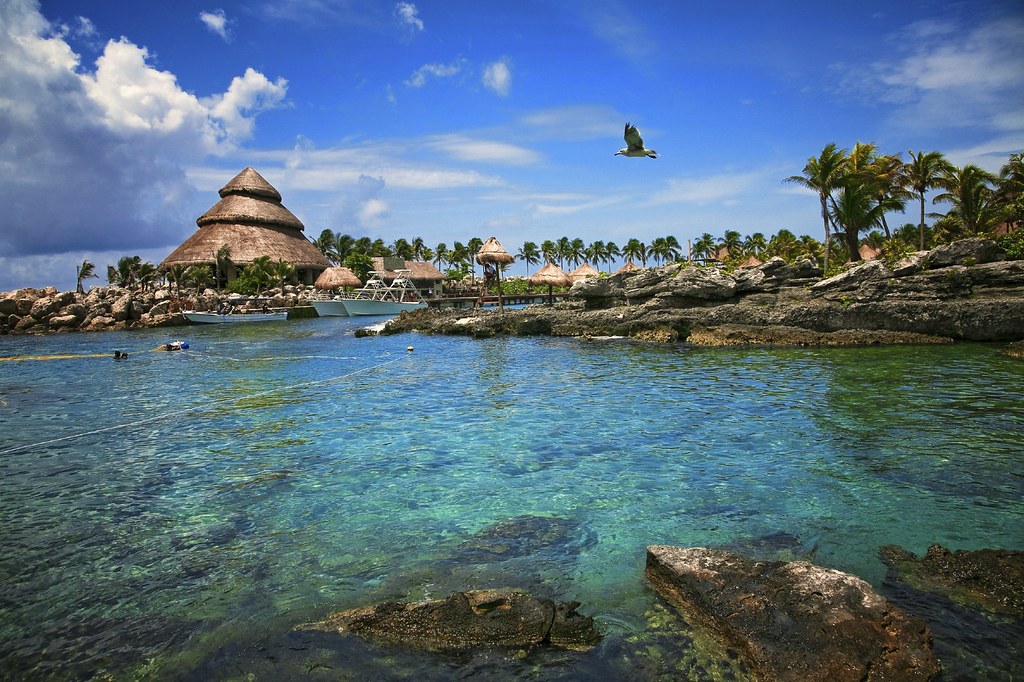 Distance from Cancun to Xcaret
The distance from Cancun to Xcaret theme park is 76 km and the approximate transfer time is 1 hour and 15 minutes. This time can be less or more and it all depends on the type of transportation you choose to get to Xcaret, as well as the departure time from Cancun and the weather, among other factors.
Distance from Playa del Carmen to Xcaret
Xcaret is located on the outskirts of Playa del Carmen, the distance between the city and the park is only 10 km and the approximate time to get there is between 10 minutes to 15 minutes.
Distance from Tulum to Xcaret
The city of Tulum is located 58 km away from Xcaret Park and the approximate travel time is 50 minutes to 1 hour. You have to consider that it takes less time to get to Xcaret from Tulum than from Cancun, but at the same time the options are less than from Cancun.
How to get to Xcaret from Cancun
Xcaret is a park that opens its gates every day at 8:30 am and if you want to arrive on time so you don't miss anything and enjoy every minute here, you will need to consider the transfer options you have available to achieve it and now we are going to know them.
Private Transfer
The private transfer service is an option to get to xcaret from Cancun and more if it is a group of 5 to 9 people. This type of service is provided in a large and spacious unit.
Being a private service, the vehicle will go for you to the hotel and of course, considering that you are going to Xcaret, it will help you choose the best time to leave Cancun and get to the park. At the same time, remember that you can hire a round trip transfer and that way, you don't have to worry about how to get back to your hotel.
Playa Express
Playa Express is a shared shuttle service and can be found in front of the ADO terminal.  It is an excellent option if you are looking to save money, but you have to know that as such the bus will leave you very close to the fifth avenue of Playa del Carmen. Once there, you can take a cab or another colectivo to get close to the entrance of Xcaret Park.
Cab
The cab is a service similar to the private transfer, but instead of being a large unit with capacity for up to 9 people, it is limited to a small unit with capacity for 4 people. It should be noted that it can be more expensive than private transportation. However, it is a good option if you want to get to the park as quickly as possible.
ADO
ADO offers a direct transfer service to Xcaret. They are not «open schedules». This means that it has specific departure and return times. These schedules can change according to the company's policies and the price is around 200.00 MXN to 300.00 MXN per person.
Tour
Generally, if you decide to buy a tour to Xcaret, the transfer will be included in the package. So this way you don't have to worry about anything else but enjoy.
How to get to Xcaret from Playa del Carmen
If you are in Playa del Carmen, getting to Xcaret theme park is even easier. Let's get to know it.
Cab
From anywhere in Playa del Carmen you can take a cab and it will take you to the entrance of Xcaret. It would cost about 300.00 MXN one way and of course, you can ask for the driver's number to dial and he will pick you up, which would cost another 300.00 MXN.
Bus to Tulum
From Fifth Avenue you can find the base of the bus service to Tulum, which is similar to Playa Express. The difference is that this one has Tulum as its destination, but you can ask the driver to drop you off at Xcaret. The cost of this service is only 55.00 MXN per person.
But it is necessary to clarify that as such it is not a private service and when you say to return, you will have to wait for him to pass by the federal highway and stop to take you back to his base in Playa del Carmen.
Tour
You can hire a tour to Xcarer, which is actually a little cheaper to hire on the beach than in Cancun and as such, the service will include in your package the transfer from your hotel to the park and from the park to your hotel.
How to get to Xcaret from Tulum
Tulum is not close to Xcaret, however from here you can also get to this incredible park and for this you can make use of the following services.
Colectivo Tulum
The Tulum shuttle service is a service that you can take from downtown Tulum at a cost of 55.00 MXN. Its destination as such is Playa del Carmen, but you can ask to be dropped off near Xcaret.
The advantage of this service is that as such it does not «enter the city», which shortens the time due to less traffic on the federal highway.
Tour
From Tulum you can buy a tour to Xcaret which includes private transfer. It is worth mentioning that not all tours that are sold to Xcaret park include the transfer.
Difference between Xcaret Plus and Xcaret
There are two types of entrance tickets to Xcaret natural park and this is Xcarer basic and Xcaret plus and the difference is that the plus access includes a buffet meal, snorkel equipment rental, lockers and access to the plus area.
In the plus area you can find dressing rooms, restrooms and private lockers, plus you are entitled to a buffet meal with a beer included (unlimited coffee and fresh water during your consumption) and the opportunity of the. Tours in three subway rivers (includes safety bag during the tour) and to top it all off, you also have access to the Xcaret Mexico Espectacular presentation.
Conclusion
You can buy your access ticket to Xcaret from its official website and of course, it can be the basic access or the plus access. But really, whichever one you buy you only have to keep in mind one thing: Enjoy every second you spend in one of the best parks in Mexico. See you in other posts.