If you are looking for an economical means of transportation to go from Playa del Carmen to Tulum or from Tulum to Playa del Carmen, then you might be interested in the «Tulum Shuttle Service«.
This service is similar to Playa Express (A low cost colectivo with capacity to carry up to 16 people) but with the difference that its route is not Cancun – Playa del Carmen or Playa del Carmen – Cancun. Specifically its route is Playa del Carmen – Tulum and Tulum – Playa del Carmen.  And right now we will tell you about it.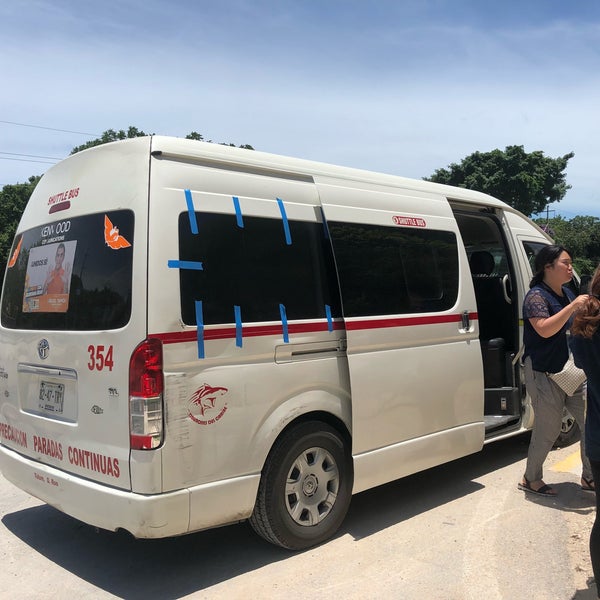 Tulum foreign transportation service (Collective)
The Tulum shuttle service is a «semi-private» and low cost transportation line that can be found very close to Playa del Carmen's fifth avenue and less than 100 meters from the Playa Express terminal.
This is a low-cost, air-conditioned service with various departure times. It is an ideal transportation service for all people who want to go from Playa del Carmen to Tulum or even get to Playa del Carmen from Tulum.
The cost of the transfer is 55.00 MXN and since it is a «foreign route«, passengers are allowed to get on and off during the whole trip.
For example, if you want to go to the crystalline cenote, near Puerto Aventuras: The collective transfer service to Tulum can help you with that.
In fact, thanks to the route that this type of economic transportation takes, you can even reach the parks of Xcaret, Xplor, Xenses, Cenotes and even Xel-ha.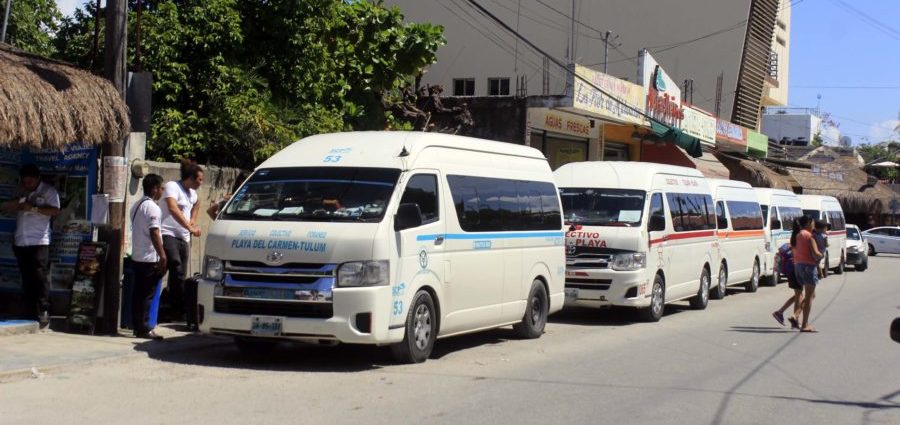 Where is the colectivo to Tulum in Playa del Carmen?
The colectivo to Tulum or the shuttle service to Tulum is located just 500 meters from the fifth avenue, 100 meters from the base of Playa Express. Its postal address is: 25 Av. Sur LB, Centro, 77710 Playa del Carmen, Q.R.
What is the cost of transportation from the colectivo to Tulum?
The cost of the bus from Playa del Carmen to Tulum or from Tulum to Playa del Carmen is 55.00 MXN.
What are the schedules of the shuttle service?
Generally the public transportation service from Playa del Carmen to Tulum has its first service every day of the week at 6:00 am and the last transportation service leaves at 11:30 pm.
Because there is a high demand for the shuttle service from Playa del Camen to Tulum, after its first service of the day, the shuttle leaves every 10 to 20 minutes from its base in Playa del Carmen, until it reaches its last schedule.
Is it safe to take the service?
As such it is a safe, economical and somewhat comfortable transportation service. Somewhat comfortable because it is not private and because it will make some stops along the way, which increases the arrival time from Playa to Tulum or from Tulum to Playa. But other than that, it is an excellent transfer service.
What other places can I get to with this economic transportation service to Tulum?
Because this is a service that can make stops at various points along the route either to get off or on the bus, it becomes an excellent option of economic transportation to go to various places in the Riviera Maya. Some of the points you can go to are:
Xcaret Park
Xplor
Xenses
Xenotes
Rio Secreto
Puerto Aventuras
Various cenotes in the Riviera Maya
Akumal
Xel ha
Downtown Tulum
Conclusion
If you want to go from Playa to Tulum and get to the center of Tulum in an economical way, without a doubt this transportation service is the ideal one for you, because it is very cheap and comfortable. Of course, remember that you should not travel with luggage and it has departure and arrival times. So be aware of it so you don't get «stranded» in Tulum.