Transportation to Sha Villas
Do you want to stay in front of Isla Mujeres? Well, this is possible at Sha Villas Cancun.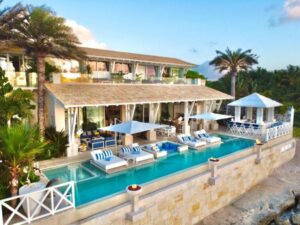 These luxurious villas are located on the north coast of Cancun and directly face Isla Mujeres. This feature will give you one of the best panoramic views of the city.
In addition, staying at Sha Villas is to enter a place full of luxury in its large, spacious and luxurious suites that feature state-of-the-art technology combined with a sumptuous Caribbean decor accented with details in each and every one of its spaces.
But that's not all: La Villa Sha puts at the disposal of all its guests housekeepers, the property manager, bartender and a private chef for the three meals; all available for any requirement. Undoubtedly, the place you are looking for to spend an unforgettable vacation in the Riviera Maya.
What is the distance from Cancun airport to Villas Sha?
The distance from Cancun airport to Villas Sha is 26 km.
How long does the private transfer to Villas Sha take?
The approximate private transfer time to Villas Sha is 45 minutes to 55 minutes.
What is the cost of the transfer?
The cost of the private transfer to Sha Villas is 49 USD for 1 to 3 people.
Transfer Rates and Prices
From / To
Private
Private
Private
1-3 Passengers
4-6 Passengers
7-8 Passengers
Single
Round Trip
Single
Round Trip
Single
Round Trip
Traslado a Playa Mujeres
49 USD
89 USD
59 USD
99 USD
69 USD
109 USD