Secrets Silversands
Secrets Silversands Hotel is a hotel located on Fifth Avenue in Playa del Carmen and only 80 meters from the beach. It is a boutique hotel close to the best area of Fifth Avenue and where bars, restaurants, nightclubs, plazas, stores and of course the fun will not be lacking at all.
But that's not all, because not only has a prestigious location, the hotel also has a rooftop, with pool, barbecue, and sun terrace.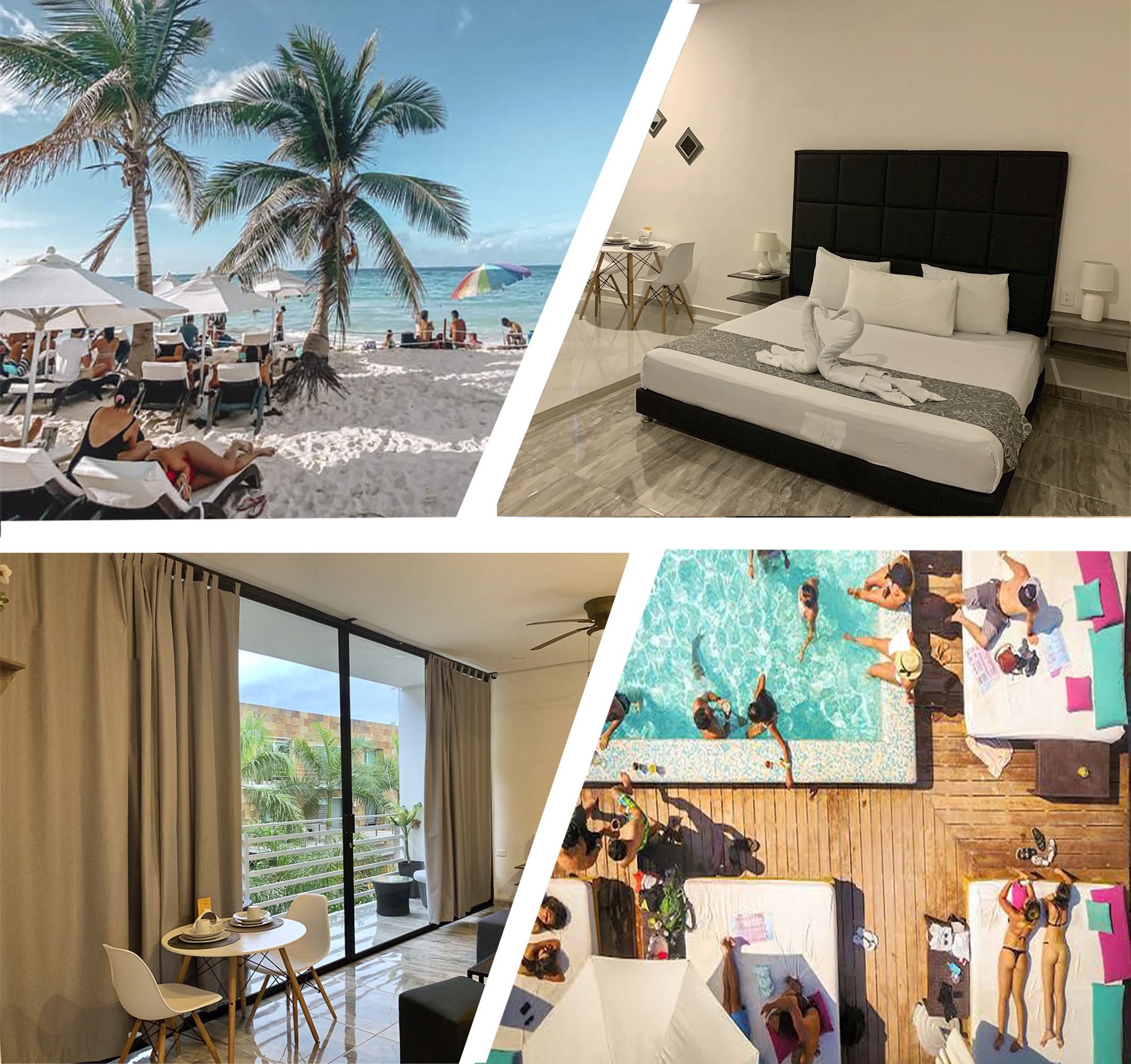 It is also an excellent place to stay with your partner, as the boutique hotel offers exclusively deluxe rooms with king size beds, air conditioning, private bathroom, flat screen TV, dining room, kitchen, refrigerator, microwave, coffee maker, toaster and some rooms have a private balcony overlooking Fifth Avenue and as if this were not enough, Secrets Silversands Hotel offers free entrance and use of the facilities to our beloved Martina Beach Club.
How far is Secrets Silversands from Cancun Airport
The distance between Cancun airport and the Secrets Silversands hotel in Playa del Carmen is 54.2 km and the approximate transfer time is 1 hour.
How to get to Secrets Silversands Hotel from Cancun?
The Secrets Silversands hotel is located in Playa del Carmen and therefore, in order to get to the hotel it is necessary to know how to get to Playa del Carmen and from Playa del Carmen to the hotel. Although this process really depends on the type of transfer you choose and which can be one of the following: Private Transfer, Taxi, ADO Bus and Playa Express.
Private Transfer
The private transfer service is the best option to get to the Secrets Silversands hotel from the Cancun airport. This service can be booked online and can be customized with baby seats, food and beverages.
This means of transfer would drop you off at the door of your hotel and not at an intermediate «point», as the shared transfer of ADO and Playa Express would enhance it.
It should be noted that the transfer costs can range from 60 USD to 135 USD. The cost depends on the number of people, if it is a single or round trip and also, the type of vehicle you want to choose. Don't wait any longer and book your transfer with us right now.
Cab
The cab is a private service similar to the private shuttle, but with the difference that it is provided in a small unit, with a maximum capacity of 4 passengers and little luggage. In addition, this means of transportation does not have WIFI and in some cases, it does not usually have air conditioning.
It should be noted that this is a very fast option to get to the Secrets Silversands hotel and it is only and only recommended to take this service from the Cancun airport.
On the other hand, we cannot leave out that although there is a transfer fee from Cancun to the Secrets Silversands hotel, this is not always fulfilled and you can be charged up to 50 USD per trip.
ADO Bus
The ADO bus can be taken from the Cancun airport and even from downtown Cancun. It doesn't really matter where you take it from, it is an economic, shared, air-conditioned service and among all the economic transfers, this is the one that will take you closest to the hotel.
Why? Because its base is located in the heart of Playa del Carmen's Fifth Avenue and the cost of the transfer can be from 150.00 MXN to 250.oo MXN per person.
Playa Express
Playa Express is the most economical transfer service to Playa del Carmen, it has a cost of 55.00 MXN and can only be boarded in downtown Cancun. It is worth mentioning that it is a shared transfer service, it has air conditioning but its spaces are very small.
On the other hand, its base is located very close to Fifth Avenue. This means that you will have to walk or take a cab to get to the hotel.
Conclusion
Secrets Silversands Hotel is an excellent option to vacation in the heart of the Riviera Maya and being on Fifth Avenue, you won't miss any of the fun! So don't hesitate and book your stay at this boutique hotel in Playa del Carmen right now.