What is the distance from Puerto Morelos to Playa del Carmen? The distance between Puerto Morelos and Playa del Carmen is 35 km and the time it takes from this fishing village to the cosmopolitan city of Playa del Carmen is approximately 30 minutes to 40 minutes.
So if you chose to spend a vacation of calm and tranquility in Puerto Morelos, but you want to visit Playa del Carmen for a while, we will tell you right now what are the best ways to get to Playa del Carmen from Puerto Morelos.
Puerto Morelos
Puerto Morelos is a small fishing village and is the eleventh municipality in the state of Quintana Roo. It has a privileged location that puts it in the center of Cancun and Playa del Carmen.
In short, from Puerto Morelos you can quickly get to Cancun and from Puerto Morelos you can quickly get to Playa del Carmen. Of course, not to mention all the nearby attractions that give us both directions, as well as the town itself.
In this place calm, tranquility and beaches will be your adventure companions: Unlike Cancun or Playa del Carmen, here you will not find nightclubs, shopping malls and any other activity that big cities have to offer. On the contrary: In Puerto Morelos, calm, tranquility and relaxation is what will be waiting for you.
It is worth mentioning that precisely these characteristics are the most attractive of the place and of course, if at some point you want to get out of this routine and go to have fun in Playa del Carmen, now we will tell you how to get there.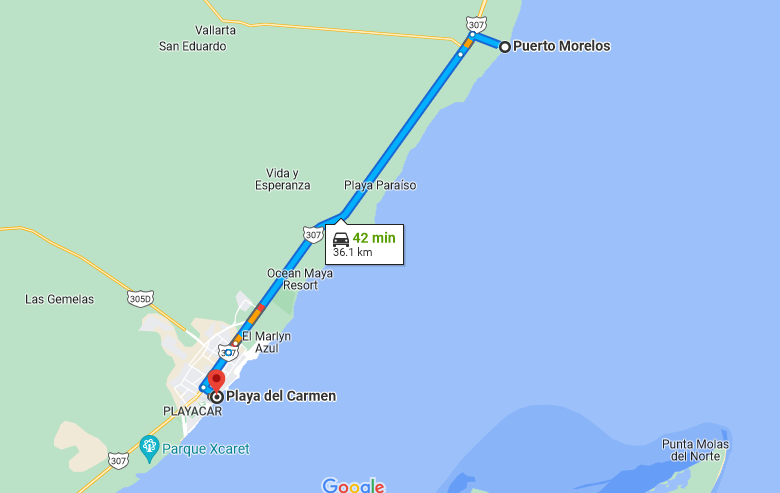 How to get to Playa del Carmen from Puerto Morelos
Despite being a tourist spot, Puerto Moleros as such is still a «limited» place: There are still not many options to go from here to other places like Playa del Carmen.
But the fact that there are not many options does not mean that it is not possible. So now we will know the 4 ways to get to Playa del Carmen (or Cancun) from Puerto Morelos: Playa Express, ADO bus, Taxi or rented car (Own).
Playa Express
Playa Express does not have a base as such in Puerto Morelos, but as it is located within its trajectory it usually makes stops to pick up and drop off passengers. So this is an option to get to Playa del Carmen at a cost of 55.00 MXN per person.
Bus
As such there is no ADO station, but be careful: We say as such. Because there is a very small one that receives «momentarily» the ADO buses and other transfer lines. So this is again a very good alternative to get to Playa del Carmen.
Cabs
If you want to get to Playa del Carmen as fast as possible and you are traveling with only 3 people or less, then you can take a cab. The cabs in Puerto Morelos are very cheap and will have no problem to help you with the transfer to the beach and they can even wait for you to bring you back.
Your own car
Finally, if you have your own car or you rented a car, then you should know that Playa del Carmen is located only 35 km away from Puerto Morelos and you just need to put the GPS on your cell phone to find the route to follow to get to this incredible place.
Conclusion
These are the 4 options that you currently have to get to Puerto Morelos and we do not list the private transfer why? Because the private transfer service will charge you for the transfer from Cancun to Puerto Morelos and from Playa to Puerto Morelos.
Remember that the private transfer agencies are based in Cancun and it is not feasible for them to go to Puerto Morelos to take you to Playa del Carmen.
So now that you know this, don't hesitate any longer and go out and see all that Playa del Carmen has for you.